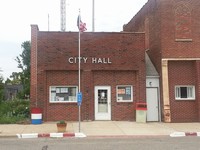 Windsor City Hall
The City Clerk for the City of Windsor is Linda Voris. She can be reached at 217-459-2291 or by email at
lvoris1@hotmail.com
.
The City Clerk's office is responsible for many duties, whether imposed by statute or those customized to satisfy local needs. They include: keeping the City Seal and all municipal records; preparing, organizing and distributing proceedings of all City Council meetings; publication of legal notices and ordinances; City Archivist; and certain financial duties. The Clerk is also the City's Freedom of Information Officer/OMA (Open Meetings Act) Officer.
Additional functions of the City Clerk's office are to monitor all elections, encourage voter registration, and to process voter's change of addresses.
Responsibilities of this office are mandated by the Statutes of the State of Illinois. They include the following:
• To provide information on City of Windsor Ordinances.
• To keep records of City Council proceedings, minutes, and agendas.
• To assist in the Public Information and Freedom of Information Process.
• To function as the City Government's Archivist.