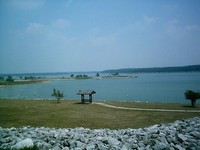 Lake Shelbyville

Lake Shelbyville is a reservoir located in Shelby County, Illinois and Moultrie County, Illinois created by damming the Kaskaskia River at Shelbyville, Illinois. The lake's normal surface pool is 11,100 acres (44.9 km2) at an elevation of 183 meters (600.4 ft). The area that surrounds the lake is the Shelbyville State Fish and Wildlife Area. The lake is managed by the United States Army Corps of Engineers and the wildlife is managed by the Illinois Department of Natural Resources.
$57 million was appropriated for the dam and lake project. Ground breaking on the dam occurred May 4, 1963. . The lake was officially dedicated September 12, 1970.

Bordering the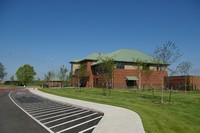 Visitor's center
lake are two state parks:
Wolf Creek State Park
and Eagle Creek State Park; and five federal campgrounds including Coon Creek, Opossum Creek, Lithia Springs, Lone Point and Forest (Bo) Woods. There is also Wilburn Creek and Whitley Creek Recreational Area. Lake Shelbyville's shoreline is heavily wooded and subject to severe erosion. Man-made beaches are located at Dam West (Shelbyville), Wilborn Creek, Wolf Creek State Park and Sullivan Beach. Aside from the main channel of the lake are many coves, perfect for fishing. The lake is deeper than other major lakes in Illinois, so it is popular with boaters during the summer.

There
Lake Shelbyville
are full-service marinas, resorts and campgrounds on the lake. There are three full service marinas in business: Findlay, Lithia Springs and Sullivan Marina. Findlay Marina is located north of Marker 5 just past the bridge on the west side of the lake. Sullivan Marina and Campground is located 4 miles south of Sullivan and includes hotel suites. Lithia Springs Marina is located on the southern end of the lake. All three offer slip rentals, boat service and sales and a store to purchase supplies. The resort at Eagle Creek, a lodge at Eagle Creek State Park; is currently closed due to extensive renovations, but The National Golf Course at Eagle Creek, a premier 18-hole golf course situated lakeside is open.